Carpet in Seaside, OR
Are you ready for a cozy flooring upgrade in your living room, bedroom, or family room?
With new carpets from our local Seaside showroom, you can give every room in your house a peaceful and relaxing feel. Thanks to our nationwide 500-store buying power, we offer a variety of quality carpets in gorgeous styles that meet any budget. We proudly offer carpets for a variety of property types, including residential, vacation homes, main street commercial, assisted living, new construction, and remodels.
Whether your current carpet is discolored and worn, or you are simply bored of the same old hues, Randall Lee's Flooring America will help you choose the appropriate solution for your space. Stop by our carpet store in Seaside, OR today to get started and consult with our flooring experts!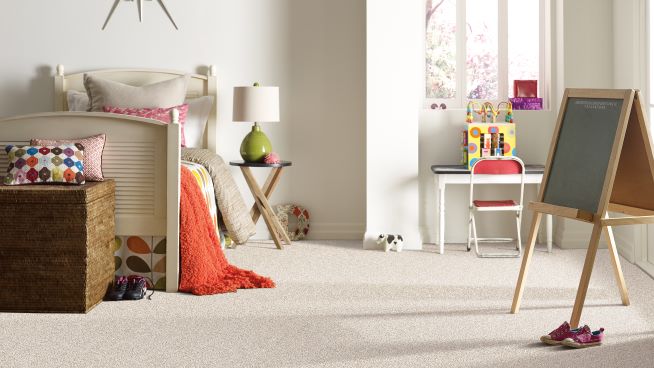 How To Find The Best Carpet Style
Do you have one style or carpet type in mind for your new flooring plan? Whether you already know exactly what you want or would prefer assistance in selecting a product, our expansive inventory is sure to be the right fit for you. Our in-store associates have a sharp eye for interior design and are skilled at recommending a new carpet that will complement your home or commercial space. We offer many patterns and colors ranging from warm-toned neutrals, greys, and bold colors and patterns, perfect for any design theme.
In addition to coloring and patterns, we can also help you decide on what type of carpet best suits your needs. Popular styles include patterned low-pile carpets for durability. There are a few things to consider when deciding on the cut of your new floor, such as comfort, durability, and cost.
What Are The Types of Carpet?
Our collection of carpets includes a diverse range of textures, patterns, hues, and fibers. Understanding the different types available is an important part of the selection process, to ensure you have the right carpet solution for your home. Our collection includes materials from the leading carpet brands in flooring today, such as Tigressa, Mohawk, Design Distinctions, and more. You will find a wide range of carpet varieties at our showroom, including the following:
Frieze Carpet
Frieze carpet is exceptionally soft and comes crafted in a cut-pile construction.
Frieze's durable curling fibers are known for their ability to camouflage dirt.
Loop & Loop Cut Carpet
Loop carpet is crafted with a surface of uncut loop fibers. A level-loop carpet style comes woven or tufted, with a same-height loop surface.
A multi-loop carpet consists of loops with two or three different pile heights. These carpets offer a casual look that is good for hiding foot traffic.
Alternatively, a cut-loop carpet is designed just as it sounds. In this case, the loop fibers have been cut straight, offering a snag-free consistency that is popular for those with children or pets.
Patterned Carpet
Carpets containing patterns are created using methods similar to printing paper. These methods include flatbed screen printing, rotary screen printing, Stalwart printing, and modern computer-programmed jet printing.
Saxony & Textured Saxony Carpet
Saxony carpets are cut-pile carpets that can add a touch of luxury to any room in your home.
Saxony-type patterns are resistant to wear, shading, and traffic marks in your home.
Textured Saxony uses the same fiber types, though they've been twisted in different directions to offer a coarser appearance.
Berber Carpet
Berber carpet has a unique style and a cushiony feeling underfoot that can be found in various pile heights and can be constructed as a level-loop or multi-loop carpet, depending on your preference.
Berber's natural strength and soil-hiding capabilities make it a go-to floor for active areas in the home.
The loop design of the carpet fibers not only looks attractive but also provides a soft cushion underfoot.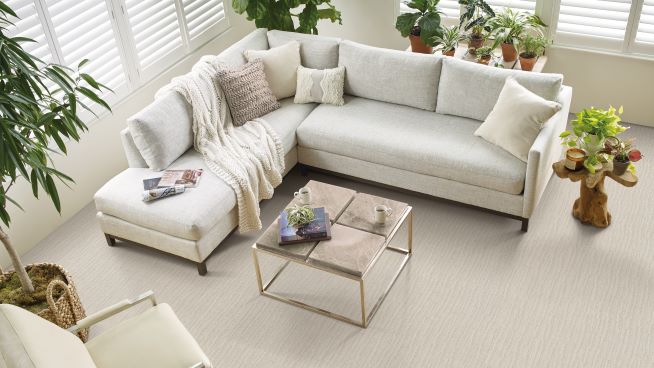 Benefits of Carpets for Your Oregan Property
There are many advantages and benefits of carpet, including its ability to offer an impressive blend of comfort and aesthetic appeal:
Versatile Designs: There are unique designs and color options available from our store, making it an incredibly versatile flooring material. With flecked color schemes and a range of color options, your new flooring will fit in seamlessly with any interior design scheme.
Water-Resistance: Our location contains some of the most waterproof carpet options, to prevent mold or damage from penetrating your floors.
Durable Comfort: While comfort may be your main concern for bedroom carpet, resiliency and longevity may be more important for living room carpet that will endure more foot traffic.
Carpet Maintenance & Care
With the proper care and maintenance, your carpet will look beautiful and fresh for years to come. Our carpet brands are built to last, and your required maintenance is as easy as vacuuming twice a week to remove dirt, soil, and any debris that may build up. Since carpet is the softest, most absorbent surface, professional cleaning is recommended each year to remove any acquired stains.
Selecting a top-quality vacuum will greatly benefit the cleanliness of your new carpet. Our showroom features vacuum cleaners by Miele, one of the leading names in the industry. These vacuums are available in a range of different sizes, with unique features that let you customize your new cleaner. From dirt and grime to crumbs, you'll be free to clean up any mess with ease. By choosing the Miele name for your new vacuum, you can count on your new cleaner to last for years to come. For natural wool carpets we recommend Milliken's Capture, a dry carpet cleaner for wools.
A Professional Team of Carpet Installers
Once you decide on your new carpet, count on us to complete your carpet installation in a professional and timely manner. Our crew of experienced technicians is available to tackle projects of all sizes. We arrive at your location with state-of-the-art tools and equipment needed to finish your job in just one visit. At Randall Lee's Flooring America, we value accuracy and precision to make sure your investment looks great and performs well. Each of our dedicated installers has years of experience handling carpet installations in Seaside.
Additionally, our Adore Your Floor Guarantee serves as your warranty for a job well done. If you are dissatisfied with your new carpet's installation, give us a call within 30 days and we will conduct any necessary repairs, free of charge.

Contact us today to get started on your carpet remodel! We serve clients in Seaside, Astoria, and Cannon Beach, OR, among other communities.