Hardwood Flooring in Seaside, OR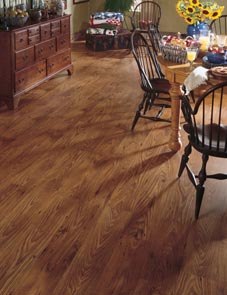 Does your house need a flooring upgrade? Do you need a high-quality floor that creates a naturally beautiful space? We sell superior hardwood flooring in Seaside, OR, capable of satisfying any style or preference. Whether you want to dramatically change the look of your space with rich hues or just want a subtle refinement, you can depend on us to find an excellent floor for you. We only provide the best flooring from reputable manufacturers such as Bruce and Floorcraft. When you visit our store, you'll speak with flooring professionals who are trained in interior remodeling and installations of any size. We'll provide different options with distinct qualities.
Wood is the elegant, timeless flooring choice that looks fantastic and lasts for years. From engineered hardwood to solid wood options, all of our flooring options come in a variety of styles and materials that are sure to impress. Nothing adds class to a home like hardwood floor does, which is why it has been a popular flooring option for hundreds of years. Besides its beauty, wood is among the longest-lasting, most durable materials on the market, making it versatile as well as stunning.
Creating a Dynamic Look With Our Selection of Hardwood
When it comes to exotic color choices and incredible resistance to humidity, stains, and scratches, look no further than engineered wood flooring. Among the most popular artificial flooring materials, engineered hardwood is made from pressed and laminated wood composite, giving it all the elegance of natural hardwood with increased durability and decreased maintenance costs. Perfect for a family with pets and children, engineered wood holds up to all the punishment that modern life can throw at it, including spills, mud, and heavy foot traffic.
Also, important to note, it's a breeze to install. Engineered hardwood can be installed as a floating floor or glued down for increased durability. Our experienced installers can go over the different methods of installation and recommend the best option based on your needs and current subfloor. After making a perfect choice, you shouldn't have to worry about the installation process. Trust our installation specialists to install your new hardwood right the first time.
When you buy hardwood through us, you can trust that you are getting the best deals in the industry. Solid hardwood is an investment, improving the value of your home as well as the aesthetics. By offering excellent prices and deals on both the sale and installation of your flooring, you enjoy a huge return on that investment, allowing you to make up the cost of the wood in the increased value. Choose hardwood for a more beautiful space to live and a more valuable property to own.
Hardwood Flooring Installation within Your Budget
The best way to ensure your hardwood flooring lasts for as long as possible is to get professional-quality installation from us. Our expert contractors have many years of experience installing all types of flooring. Trust us to provide you with flooring that stands the test of time, giving you the maximum return on your investment. You won't believe how quickly, efficiently, and accurately we complete the job. Beyond that, our focus on customer service means that you always get friendly contractors and associates guiding you every step of the way. We don't do anything unless you are fully apprised of the situation.
We're dedicated to offering beautiful hardwood flooring installation and creating an exquisite space within your budget. Our company continues to provide offers such as free estimates and room consultations that help make your flooring project as easy as possible. During an appointment, we'll take the time to consider your needs such as price ranges and maintenance preferences. Our excellent tips and top flooring choices will help you save! Ask any of our showroom specialists or professional contractors about our:
No extra-charge sales
No-scuff warranty
Rebates
Credit approval process



Contact us today for great deals on our hardwood flooring and installation services. We proudly serve Seaside, Astoria, Cannon Beach, and Manzanita, Oregon, and the surrounding area, as well as on the Long Beach peninsula.