Luxury Vinyl Flooring in Seaside, OR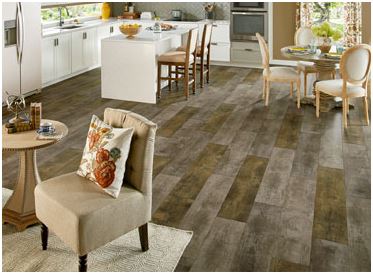 Homeowners are looking for ways to improve the strength, attractiveness, and everyday resiliency of their interiors. To that end, our flooring showroom offers a robust selection of luxury vinyl flooring in Seaside, OR. Plan your next remodeling project with this resilient flooring type, and enjoy a dependable surface that will set the tone for your entire design. Explore our selection at our location, and find the style that fits your needs.
At our flooring showroom, you are welcome to find the right style to begin your next project. We have selections from some of the most well-known brands, and our helpful showroom staff stays up-to-date with the latest trends. Hands down, we serve as the convenient resource for all of your flooring needs. Let us help you get started.
The Benefits of Luxury Vinyl
Luxury vinyl is a smart choice for virtually any room. Its variety in color, style, and design is matched only by its everyday strength and durability. Thanks to contemporary manufacturing, luxury vinyl flooring stands up to everyday foot traffic with ease. As a result, this option is a great addition to rooms which encounter a lot of activity, such as the kitchen, bathroom, and common areas. Because of its construction, this flooring material:
Resists Bumps, Scuffs, and Scrapes
Imparts a Comforting Underfoot Feeling
Wards off Dust and Dirt
Thanks to vinyl's innate resistance to dirt and spills, cleanup and maintenance of both plank and tile flooring is a simple matter. In most cases, the only items you need to keep your flooring looking new are a compatible cleaning solution and a cloth. The non-porous composition of the wear layer ensures stains have a hard time staying on the surface.
Of course, luxury vinyl plank flooring and luxury vinyl tile are available in a stunning variety of designs and patterns. Homeowners can easily give any room a specific theme thanks to the versatility of this material. Due to contemporary printing methods, luxury vinyl successfully simulates the appearance of materials like hardwood and ceramic. Now, you can enjoy the visual appeal of natural materials with the everyday strength of vinyl!
Our showroom works with well-known manufacturers and brands to bring you a diverse selection of flooring materials. View samples of your favorites as you browse. As always, our showroom staff can help you coordinate a unique look for every room. Featured brands include:
Downs H2O
Naturcor
PURstone
Start and Finish Your Remodeling Project with Us
You took the time to create the ideal interior--let us help you realize your vision completely. Our showroom offers professional luxury vinyl flooring installation. When you choose this service, we help you coordinate your project with trained and experienced technicians. In turn, you will have flooring which will serve you well for years.

Contact us to learn more about our selection of luxury vinyl flooring. We proudly serve customers throughout Seaside, OR, including Astoria, Long Beach, Cannon Beach, and Manzanita.