Luxury Vinyl Tile in Seaside, OR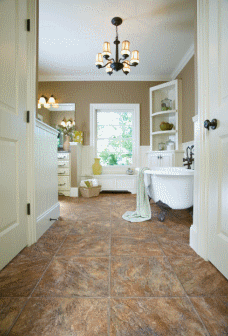 When you want to adorn your home with beautiful and resilient flooring without breaking your budget, visit our store. We are the number one source for luxury vinyl tile in Seaside, OR. With the widest selection of luxury vinyl floor tile and plank flooring styles available in the local area, you are sure to find the perfect product for your home at our store. No matter what type of color or design you prefer, you can easily find the right products at an unbeatable price by shopping with us.
Home improvement is easy when you shop for luxury vinyl tile through us. We offer three convenient ways to shop. Most customers prefer to come to our store in person and browse our inventory of vinyl tile and plank flooring in person. You can see and touch the products and get great advice from our in-house from our in-house designers. Other customers prefer to shop online through our website. Start browsing now to see the endless luxury vinyl floor tile and plank flooring options currently available with just the click of a mouse. Finally, you are also welcome to give us a call and let our team bring the luxury vinyl products to your location.
Regardless of how you shop with us, it is our goal to connect you with the perfect flooring product for your specific needs. Take full advantage of our team's knowledge and experience to find the ideal luxury vinyl tile or plank flooring to coordinate with your décor. We employ a team of well-trained designers, flooring specialists, and installers to help you with each stage of your home improvement project. You can count on us to guide you towards an affordable luxury vinyl product that completely meets all your wants and needs.


Invest in Easy-to-Clean Resilient Flooring
Lay down a solid foundation in your home by installing luxury vinyl tile flooring. This resilient flooring stands up to real-world wear and tear and is known for being low maintenance. Our manufacturers have found many ways to improve vinyl in recent years, so the flooring is now better than ever. The latest technology strengthens the flooring so that it can stand up to heavy foot traffic and even resist scratches.
Protect your home from water damage with luxury vinyl tile. This flooring product is water-resistant, making it ideal for kitchens, bathrooms, and laundry rooms. However, thanks to its versatile range of patterns, colors, and styles, luxury vinyl looks great in every room of the house.
Cleaning luxury vinyl floor tile or plank flooring is fast and simple. Just sweep or vacuum the floor to remove dust, dirt, and debris. For spills and stains, all you need is a mop, water, and a diluted floor cleaner to make your luxury vinyl gleam again. Harsh cleaning chemicals are unnecessary and not recommended. Speak with one of our flooring specialists for more maintenance recommendations for specific brands.


Diverse Range of Luxury Vinyl Floor Tile Available
Find the perfect luxury vinyl floor tile product to complement your home's interior design. Since vinyl is embossed, almost any type of design is possible. The embossing process allows our luxury vinyl tile manufacturers to create flooring that resembles stone, ceramic, marble, or any other type of tile flooring. It looks just like the real thing, but cost only a fraction of the price. In addition, luxury vinyl maintains its temperature year-round, so you never have to worry about frigid feet in the colder months. Talk to our in-house designers and flooring specialists about the type of tile you prefer and they will find you a luxury vinyl floor tile product to match.
Whether you prefer oak, redwood, mahogany, or a different species of wood, there is a luxury vinyl plank flooring product that replicates the color and wood grain perfectly. Available in planks just like a real wood floor, luxury vinyl plank flooring comes with all the same knots and texture you expect from hardwood, softwood, or tropical hardwood flooring. This flooring option is becoming more and more popular across the United States thanks to its great aesthetics and inexpensive price tag. Stop by our showroom to browse our selection and find the right plank flooring for your home improvement project.
For ultimate comfort in your home, install fiberglass-backed floating sheet vinyl. This type of luxury vinyl floor tile and plank flooring provides a cushiony feeling underfoot. It comes in dozens of different fashionable styles. Visit our store today to learn more about bringing the comfort of floating sheet vinyl into your home. Your feet will thank you for it!


Luxury Vinyl Tile Installation by Professionals
Pick out the luxury vinyl tile or plank flooring of your dreams and our expert installers will lay it down for you perfectly. Our certified luxury vinyl tile installation team understands that preparation is essential to long-lasting installation, so we take the time needed to do the job right. It is our goal to install your purchase correctly so you may enjoy your handsome new vinyl flooring for years to come.
As part of Flooring America, it is our mission to provide you with the best luxury vinyl tile and plank flooring available in the nation. Since our store is backed by the buying power of one of the nation's leading flooring retailers, we are able to stock top-quality brands at rock bottom prices. We guarantee that you will be 100% satisfied with our products and services—a promise we ensure with high-tech products and expert installation.
Visit our location today to begin browsing our showroom for design inspiration. Our flooring specialists are happy to help you shop for an affordable luxury vinyl tile or plank flooring product that brings together all the elements of your home's décor.



Contact us to learn more about the advantages offered by luxury vinyl tile or plank flooring. We proudly serve Seaside, Astoria, Cannon Beach, and Manzanita, Oregon, as well as on the Long Beach peninsula.