Window Treatments in Seaside, OR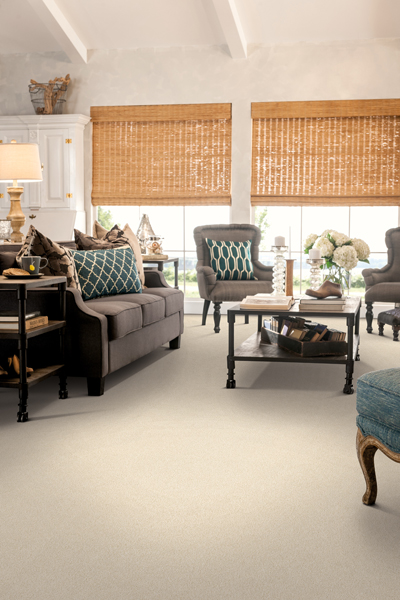 Our local flooring store serves as an exclusive distributor for Hunter Douglas window treatments in Seaside, OR. Fashion and technology play equally important roles in the design and the function of these customized treatments for windows. The handsome and innovative design does so much more than just cover up the windows. Revitalize every room in your house with Hunter Douglas window treatments. Our store offers a fine selection of traditional treatments for the kitchen and bathrooms, as well as window coverings for the living rooms, dining rooms, and bedrooms.
These attractive window fashions are marvels of technology as they slide and lift, and they are now able to adjust during the day and evening. You can even operate them remotely when you feel like enjoying a sunset without leaving the comforts of the couch. Whether you have been living in an historic home for generations, or you just purchased a new home, our store has something to offer you. We consider the entire home when we develop a design plan for your windows. You deserve treatments that make your home something you can be proud of.
Large or unusually shaped windows require custom work to fit perfectly. That is no problem with Hunter Douglas as this company makes custom products to enhance any window. Let our professionals help you in selecting the materials and style of coverings for your windows. Once our treatments are in place, your entire home will look like the cover of an interior design magazine.
Kitchen Window Treatments for the Look You Want
Combine the design elements you most appreciate into an original treatment you can be proud of. These are both practical and beautiful in the kitchen or bathroom, or for that matter, in any room of your home. Rely on our design consultants to work with you on custom selections that are made to order. You can now transform an ordinary kitchen into a destination your family will enjoy with the right combination of treatments.
Kitchen window treatments bring together the design elements of a room, adding richness and harmony. Our treatments are capable of far more than just improving the look of your home's interior. These applications are functional as well, as they filter out the sunlight during a hot summer day. When the cold winds start rolling in from the Pacific, these treatments are a great form of insulation.
We are surrounded by some of the most astounding natural beauty in the country. Many of our picturesque views deserve to be framed as works of art. Our treatments allow you to frame the view you most appreciate, in a way that saves you time and money. Your new treatments should fit your personal approach to style and the way you live your life. If you are moving into a new home, give us an idea of your location and the level of natural light you enjoy in your home.
Stylish Window Treatments for Your Bathroom
Often there is only one window in a bathroom so the selection of bathroom window treatments becomes a focal point. Ask our design professionals to help you make a selection that is attractive and appropriate. When you sit down with our design team, you get the answers to your questions and insightful suggestions you may not have considered. Our store is ready to meet all of your interior design needs, and that goes well beyond the flooring.
There are so many different options for window fashions to choose from that it can become a bit overwhelming. That is why we urge you to ask our professionals for help as we know we can make excellent recommendations for your home. Let us help you choose the perfect window dressings. Our team draws upon our years of experience whenever we help a customer create a new treatment in their home. There are any number of combinations that provide you with the look you have in mind, and our pricing is sure to surprise you as well.
After you have made that all-important choice, we send our technicians to your home to install your drapes, curtains, or blinds in the way you have envisioned. We ensure they are hung properly and perfectly to meet your expectations. Our flooring center is a member of a national retail flooring group, and that allows us to pass on a tremendous level of savings to our customers. We are focused on serving our customers in any way we can, and that includes design assistance and affordable installation. When you are making this type of investment in your particular home, you need a partner with an unbeatable selection of products and a commitment to customer satisfaction.

Contact us today to start the design process for your new window treatments. We proudly serve customers in Seaside, Astoria, Cannon Beach, and Manzanita, Oregon, and surrounding areas, as well as on the Long Beach peninsula.