Revitalize Your Favorite Rooms with Wood Look Tile in Seaside, OR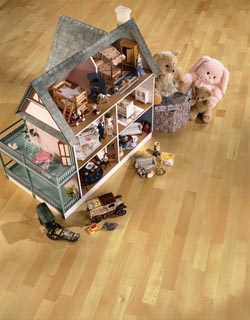 It's time to steer your interior design in bold and exciting directions. You have the power at Randall Lee's Flooring America. As your source for wood look tile in Seaside, OR, we make it easier for customers to plan and carry out their remodeling projects with confidence. Visit our showroom today and broaden your remodeling possibilities. With our extensive catalog, professional support, and installation services, home remodeling is a simple and rewarding experience.
The Benefits of Wood Look Flooring
Enjoy the look and feel of natural hardwood anywhere in your home. Wood plank porcelain and ceramic tile offer great strength and flexibility to your interior design. The special manufacturing process to create these materials allows tile flooring to emulate the appearance and texture of many hardwood species, such as pine and oak.
Thanks to wood look tile flooring's dense composition, this material is hard and solid. It stands up well against everyday foot traffic, making it a great addition to any room in the home. Tile floors will not shrink, expand, or warp when exposed to moisture. Its tough composition allows it to fit anywhere throughout your home — including the kitchen, bathroom, and basement.
Spend less time cleaning and do more of what you love. Wood plank ceramic and porcelain tile are easy to maintain. The solid and glaze-finished surface ensures spills, dirt, and dust has a hard time staining this flooring. The easy-to-clean nature of tile flooring makes this material a popular choice for active households.
Porcelain and ceramic wood tile also offer distinct heating and cooling benefits. Tile flooring retains and disperses heat easily. As a result, it keeps homes cooler during the summer. Underfloor heating options are most compatible with tile flooring, as this material can absorb heat and distribute it evenly. The result is a more comfortable home that won't overwork your AC system.
Professional Support You Can Count On
You deserve a picture-perfect interior. Turn your remodeling ideas into reality — we provide the assistance you need to complete your project. It all begins with our stunning selection of ceramic and porcelain wood tile. We have partnered up with the leading brands to offer a wide-ranging catalog, giving your interior design project virtually limitless possibilities.
Not sure where to begin? Don't worry — we are here to help. Our associates are knowledgeable about flooring and interior remodeling. You are welcome to arrange a consultation, where you may talk about your project and work out the details. With our assistance, you will find the right flooring that will meet your interior design goals.
When it's time to attain lasting, picture-perfect results, we're here to put it all together. Our showroom also facilitates installation services, conducted by our experienced in-house flooring experts. Our installers handle re-flooring projects of any size. So whether you are planning a home makeover or remodeling a favorite room, we're here for you.

Contact us to learn more about wood look tile flooring. We serve customers in Seaside, OR, including Astoria, Cannon Beach, Manzanita, and the Long Beach Peninsula area.