The Source for Wood-Look Tile in Seaside, OR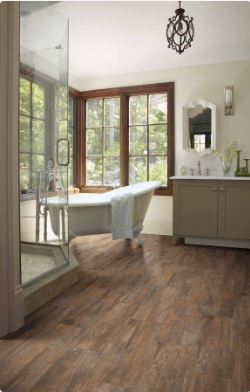 For too long, you've been watching renovation shows or reading remodeling blogs. But you're still unsure about what you want to do with your floors. You love the warmth and classic beauty hardwood creates, but you like the practical advantages tile offers. Get the best of both worlds by turning to Randall Lee's Flooring America.
We carry a vast assortment of wood-look tile in Seaside, OR. From ashy grays to deep browns and everything in between, we have options for every aesthetic. Choose one style for the whole house or mix it up for a floor that's truly one-of-a-kind.
Our wood plank tile doesn't just look like hardwood--it feels like it too. The grouted ceramic wood tile and porcelain planks are cool underfoot but offer that undeniable hardwood texture.
The quality of our products is matched by that of our customer service. Our professionals have extensive product knowledge and are happy to help you during each step of your flooring makeover.
Get the Look of Hardwood in Any Room
Homeowners love solid hardwood floors. However, this material isn't suitable for all areas of the house, especially those with high moisture or humidity.
Among the many benefits of our wood grain tile products is their ability to stand up to moisture without warping or buckling. This makes it ideal for:
Bathrooms
Kitchens
Basements
Laundry Rooms
Entryways
The secret is in the tiles' surface. The sealant used on ceramic and porcelain repels moisture and liquids. Not only does this prevent the growth of mold and mildew, but it also makes cleaning much easier and less time-consuming.
Helping You Choose the Perfect Style
When you visit our showroom, you'll see just how many wood-look tile options there are. But this shouldn't be overwhelming because our team is here to help you choose the one that's right for your project.
We start by having a discussion about your style, needs, and budget. Then, our professionals pare down the selection to just the ones that meet your criteria. You can even get a good idea of what your new wood plank tile floors will look like once installed.
By working with you from the beginning and giving you all the information you need about the products, you can have complete confidence about your purchase decision. Visit our showroom to start planning your flooring makeover.

Contact us today to learn how wood-look tile can enhance your home. We proudly serve customers in Seaside, Astoria, Cannon Beach, and Manzanita, Oregon, as well as the surrounding communities.